Academic Year 2021-2022 - What's happening at BAEC?
Two BAEC learners receive Royal Photographic Society Distinction 
Congratulations to Martin Sharrock and Clive Williams on achieving the Royal Photographic Society LRPS distinction. Martin completed Level 2 and Level 3 NCFE Certificates in Photography previously, and Clive completed NCFE Level 2 in 2018/19; both under the tuition of Pupak Navabpour at BAEC. Well done Martin and Clive, what a great achievement!
Clive's work can be found on
https://www.instagram.com/cedubya46/?hl=en
Tutor Amanda Webster 'SAA Artists of the Year' Award
More congratulations to tutor Amanda Webster, whose entry 'My Transgender Child' won the Supporting All Artists award in the SAA Artists of the Year competition. A fitting award, as Amanda always brings out the best in all her students.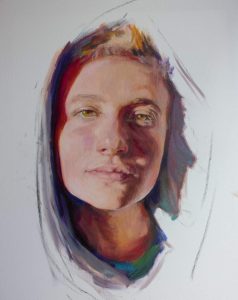 News 2020-21
End of Year NCFE Photography Exhibition at Kentwood 21st June to 16th July 2021
Learners attending the online NCFE Level 2  and Level 3 Certificate in Photography are showcasing their marvellous work at the Kentwood centre this month. Displays of photographs are doted around the café area and along the adjoining corridors.
At Level 2, learners explore photographic techniques, materials and resources to develop and adapt their ideas creatively, and produce images in areas of landscape, portrait, still life, architecture, social documentary, close up or wildlife.
At Level 3, learners refine their technique and knowledge in two mandatory units and one personal choice unit. Their portfolio of work include Documentary, Location, Portrait and Studio Photography.  The qualification is endorsed by the Royal Photography Society.
External verifiers from the NCFE awarding body have praised the work of BAEC students, pointing out that the quality of everybody's work is well above the expected level!
If you are interested in photography and want to find out more, why not join  Introduction To Level 2 Photography  - an online course that introduces you to the basics of photography, in preparation for the NCFE Level 2 Certificate in Photography course starting in September 2021.
https://courses.bromleyglobal.net/CourseDetailsView.asp?CODE=R01796&NAME=Photography+%2D+Introduction+to+Level+2&ID1=1000&ID2=1796&ID3=1
Celebrating BAEC Volunteers
The first week in June 2021 is National Volunteers' Week. BAEC is celebrating its volunteers and recognises their valuable support.
Our maths tutor Ade Omoyeni has been volunteering for Age UK for over 10 years.
'I enjoy volunteering as it provides me with life satisfaction.
I feel good helping elders in the community, doing different tasks to make life comfortable for them. It gives me a sense of pride to make a difference.
AgeUK is a good charity organisation to be associated with, based on its good reputation in the community and society at large.'
Wendy Twitchett is a student and a familiar face to those attending Digital Drop In sessions. She has been helping people improve their digital and employability skills at BAEC for several years.
'I really enjoy being a volunteer because  Kentwood is such a welcoming and friendly college and volunteering  gives me the opportunity to  meet so many different and interesting people.  I volunteer in the Digital Drop In and it is a pleasure to watch someone learn to use a computer, acquire  new skills and develop confidence.  I enjoy getting to know  the people who come in and helping them in their search for work .   Often they will share particular thoughts  about finding a job and I can  listen for as long as they need to talk.
At the same time, I learn a great deal  about the world of employment , how to produce the most powerful CVs and the best methods of searching for a job.  I am very happy to give my time to Kentwood.  Being able to give time and individual attention to someone is so important in a demanding world.'
Lizzy Atkinson, a member of our Kentwood administration office, says
' I volunteered for ten years at a stables for Riding for the Disabled until Covid made the classes stop.  It gave me a lot of satisfaction and made me very happy to see the progress of the riders over the years.  It makes me feel the same way through working at BAEC to see the students achieve what they have come to learn.'
In April 2021, a group of volunteers from Living Well charity in Penge enjoyed specialist literacy training with our tutor Saliha Graine. Read about their experience below
'Living Well Bromley is a charity based at Holy Trinity Church, Penge which provides various services free of charge, including a foodbank, a community lunch and café, mental health support, debt advice and help with homelessness and addiction.  It is staffed mostly by volunteers.  https://www.livingwell.life
A while ago it was decided to offer our guests support with literacy and numeracy, and a handful of volunteers offered to be part of a support group called "Words and Numbers".  We felt that some training was needed, as well as direction to suitable resources. BAEC offered to run a short course for our volunteers to meet these needs.  This was due to start in March 2020, but the Pandemic and Lockdown changed that.
However, with recent easing of restrictions, BAEC returned to face to face teaching, and our course was on again. Seven of our volunteers have attended this training, finding it both inspirational and informative.  We have been introduced to many useful resources and had discussions on the best approaches with our "students".  We know that some of our guests at Living Well will simply need help with form-filling and online applications. However, we also have a small list of guests who are seeking support to improve their reading/writing skills, and thanks to the generosity of BAEC we feel better able to offer that support.'
Steve Taylor, a student at our Poverest centre and a keen member of his local community, volunteered as Father Christmas at the launch of the new bus route in Edenbridge. Local press celebrated the day with this photo
Three BAEC tutors recently volunteered to assist Covid Surge testing in some Bromley schools, along with their teaching commitments. Anne Burger, Bibi Holmes and Elizabeth Coates, thank you for helping keeping us all safe!
Interested in volunteering or finding out more? https://volunteersweek.org/
EU Settlement Scheme
If you're an EU, EEA or Swiss citizen, you and your family can apply to the EU Settlement Scheme to continue living in the UK after 30 June 2021. The deadline is approaching and we remind our students and family members that they should apply as soon as possible.
You can find more information on the Government website https://www.gov.uk/settled-status-eu-citizens-families
The university of Liverpool has produced this helpful leaflet  EU,Settlement,Scheme,-,Information,for,EU,or,EEA,citizen,children
Virtual Exhibition 2021
View the wonderful work of our students in our Gallery page.
Census 2021
BAEC is operate as a Census Support Service to members of the public. You can get help completing your Census form with one of our friendly advisors. Information about the service can be found here.
Summer Programme 
We will be extending our academic year to help our students achieve their learning goals during this very disrupted year. Look out for new summer courses and additional workshops in June and July 2021.
We are recruiting
Help BAEC retrain, upskill and inspire local adults in these difficult times and expand your own practice in 2021.
We have vacancies for sessional tutors in several subjects to start in spring term 2021 - see our BAEC job vacancies page for details
Successful Matrix Accreditation November 2020
BAEC Career, Information, Advice and Guidance procedures were externally reviewed in the last week of November. BAEC achieved the Matrix Standard  and the assessor was pleased to write 'In summary, this accreditation review confirmed that BAEC continues to deliver a high quality, content rich, IAG offer that is making a real difference to learners.'
The Matrix assessment is centred around the quality of Information, Advice and Guidance (IAG) that BAEC offers to learners and staff and is a requirement for publicly funded Adult Education institutions.
In total, the Matrix assessor interviewed 30 different staff and partners, and a sample of 23 learners.
The strengths highlight BAEC work on IAG and its embedded approaches:
 Leadership approaches have successfully enhanced the positioning of BAEC as an integral component of wider council approaches such as 'Transforming Bromley'.
The matrix Standard is embraced as a business improvement tool providing a "push and boost" approach to striving for IAG excellence.
Innovative approaches to the whole learner journey have been essential to keep learners engaged and enjoying learning throughout the pandemic.
The IAG offer has developed significantly since the last assessment, with staff embracing a broadened role in response to increased demand for health and well-being support.
 

New Laser Cutter for the Etching room
Etching students will soon benefit from access to a laser cutter donated by our Etching tutor Kirsten Baskett. BAEC is one of the few institutions with this equipment, which enables students to produce accurate and precise pieces, and learn new skills.
DevicesDotNow
We are  very e
xcited to have partnered with Good Things Foundation to receive these tablets from DevicesDotNow scheme. Thanks to The National Lottery Community Fund and Good Things Foundation we were able to equip some of our most vulnerable learners stay connected during Covid-19 and engage with education
Digital  Adult Community Education (ACE) guidance materials
Bromley Adult Education College worked with Holex and other leading colleagues to help adult education providers with developing their digital capabilities.
Link to Digital Adult Community Education (ACE) developed materials:
New Smartboards
Smartboards in most classrooms at the Kentwood and Poverest centres were upgraded to up to date models during summer 2020.
BAEC was successful in securing funding from the Greater London Agency and the Borough of Bromley to carry out the works.
The new Smartboards are user-friendly, offer greatly enhanced visibility and sound, and can share materials/audio/videos with Android, IOS and Windows devices wirelessly.
Classroom computers have also been upgraded so they respond faster and you have the opportunity to work with the latest apps.
The new facilities will improve the quality of teaching and learning for all learners, and make your experience at BAEC more enjoyable.